6th International Convention for Environmental Laureates
6th International Convention for Environmental Laureates
Young Talents Day
Students engage in discussions with international environmental laureates at the UWC Robert Bosch College Freiburg on March 11
Sixth International Convention of Environmental Laureates in Freiburg
The "Young Talents Day" on March 11 – a highlight of the International Convention of Environmental Laureates in Freiburg – gives selected students and pupils the opportunity to exchange ideas with international environmental award winners about selected global environmental topics. At the event, which takes place at the UWC Robert Bosch College, the young people will learn about a wide range of environmental, climate and nature conservation projects from around the world.
Students from 15 schools from the Freiburg Regional Council, students from the Faculty of Environment and Natural Resources of the University of Freiburg as well as students of the UWC Robert Bosch College participate in the "Young Talents Day". Current environmental policy issues and topics will be discussed at round tables. In addition, Femke Wijdekop, who is working as an environmental protection expert for the "Defending Environmental Defenders" programme at the IUCN National Committee of the Netherlands, will give a lecture on "Ecocide".
Another highlight of the Young Talents Day is the presentation of the Brazilian project "Engajamundo", which won the competition "Youth for the Environment" of the online platform "EnviroNetwork.eu". With more than 5,000 likes in the online voting on the Facebook page of the European Environment Foundation, the "Engajamundo" project defeated six other school and youth projects in the fields of environmental and nature protection from Germany, Vietnam and Ghana. The winners received the participation in the Environmental Convention. The initiative "Engajamundo" with the theme "What is climate change and what do I have to do with it?" aims to give young Brazilian people an understanding of the current climate change reality and to raise an awareness on their own sustainable actions.
The Young Talents Day is organized in cooperation with the University of Freiburg, the Freiburg Regional Council, the UWC Robert Bosch College Freiburg and the special support of Ms. Sick-Thies and SICK AG.
The detailed programme of the Environmental Convention is available at https://www.european-environment-foundation.eu/en-en/laureates-convention/6th-convention-2017.
About the International Convention of Environmental Laureates in Freiburg:
Since 2012, the International Convention of Environmental Laureates has been held in Freiburg under the patronage of Professor Klaus Töpfer. More than 100 environmental laureates from more than 40 nations participate each year. In addition to internal events, there are also several public programme parts. The 6th International Convention of Environmental Laureates takes place from 9-12 March 2017.
EnviroNetwork.eu:
The project is funded by the DBU (German Federal Environmental Foundation) and provides digital networking to environmental laureates, companies, NGOs, environmental activists, students and to the media and press. Those interested can get information on the website or create profiles and projects themselves. For more information, visit www.environetwork.eu.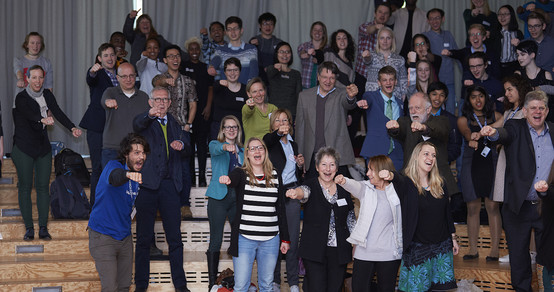 ---
---