How would you describe yourself?
Prof. Gupta
I'm an academic but also an environmental engineer, charity worker and enthusiast in water issues in the developing world. My main work is teaching as a professor in water technology at Heriot-Watt University, Edinburgh. I also work on programmes in Latin America, Asia and Europe. At the moment, I am working very closely with Mr Barua and his organisation, using technology I developed ten years ago, but this time we are using the technology in a new way so it is completely green: we don't use any chemicals, we don't produce any waste, and we supply arsenic-free water for thousands of people.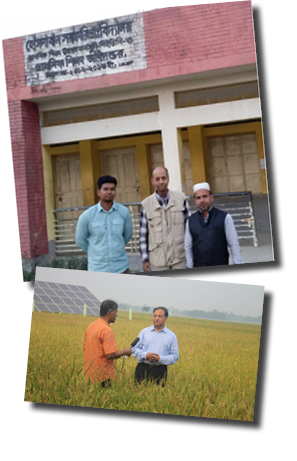 Mr Barua
I founded Bright Green Energy Foundation (BGEF) in January 2010, which provides pollution-free affordable renewable energy to the underprivileged communities in rural Bangladesh. My mission is to help Bangladesh become the First Solar Nation in shortest possible time. Bangladesh is one of the most vulnerable countries in the world when it comes to climate change.
In the last two decades, domestic solar power systems have made a huge contribution, providing electricity to 15% of Bangladesh's 160 million people. This makes it the largest solar home system programme in the world.
Tell us about an exciting project/initiative you are working on that you would like to share with the world?
Mr Barua
In 2015 I met Dr. Gupta at the International Convention of Environmental Laureates in Freiburg, Germany. I came up with an idea of combining his arsenic-removing technology with solar power. We opened the world's first solar powered arsenic treatment plant in Metangor, Comilla, an arsenic- prone area of east Bangladesh in December, 2016. Now the water has no arsenic and is at a tolerable level. The next step is to create a socio-economic model so we can pay the workers to support maintenance in the future and scaled up in a sustainable fashion.
Prof. Gupta
It took us 45 years to develop the technology. What happens is that arsenic is present in soil in large quantities but in a stable form. However, with modern irrigation practices and the introduction of fertilisers, arsenic breaks down to a deadly form and dissolves in water. It has no smell, taste or colour so it can only be detected using a chemical test. Arsenic was first detected in the region 30 years ago. It has since risen and significantly exceeds the WHO and World Bank's safety guidelines.
In the area that Mr Barua invited me to visit, the only source of water for all the children at the village school was contaminated. They were consuming water that had twenty times over the maximum daily exposure. If they continued drinking from that source, the children would have developed cancer or related disease by their early teens.
The technology we are using to treat the water is very efficient. It works by increasing the oxygen levels in water, thus changing bacteria levels. It does not produce any waste and never contaminates the soil as it uses no chemicals. We use solar power so there is no carbon footprint.
What does it mean to you to be an environmental laureate?
Prof. Gupta
The European Environment Foundation brought us together. We gave a presentation at one of the seminars, Mr Barua gave his presentation, and we realised we could work together. This is happening with other laureates too. We feel this is a great success.
What do you think is the potential if we unite environmental laureates to collaborate together?
Mr Barua
At every conference the group of laureates seems to expand and share their new initiatives. It is inspiring to find out what is happening around the world with environment. I really like and appreciate that the organizers provide a platform to the young talents and include them in the program as 'Young Talents Day'. That is how we are connecting laureates to young students.
What are the top three issues you would like to address?
Prof. Gupta
One important issue is soil pollution in the developing world – we are losing soil due to contamination and over exploitation of land. We can use green energy to rejuvenate the land. Also crop production is a very important issue, as there is so much famine in Africa. There are many environmental refugees and climate refugees, an issue that does not get enough attention.
Mr Barua
Bangladesh is facing increasing natural disasters because of the climate change, including rising temperatures, landslides and sea level rise. But the good news is that the mitigation process creates a lot of new jobs in green energy. By creating jobs, we can create a decent life for young and unemployed peoples and contribute to the socio economic development of the country.
What are the benefits of being part of a bigger organisation and collaboration such as EEF?
Mr Barua
Bangladesh is one of the countries most threatened by climate change. So I think if we can say something at the EEF conference, we would like discuss sea level rise, flash flooding and other changes, and how we can deal with them. Together we can design a response to the challenge. The EEF laureate network is a great way to network, share knowledge and use each other's wisdom on such issues.
How would you encourage young people to get involved with the movement?
Prof. Gupta
I run a lot of training courses for young students. We encourage young people to come up with new ideas. Once they are inspired, they can achieve a lot. EEF needs to inspire young people. The network's primary aim should be to inspire young minds to do wonderful things.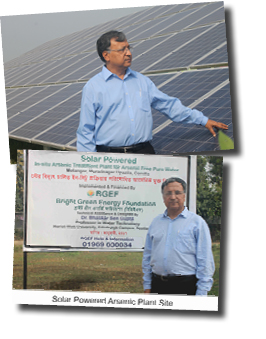 What is your big hope/ambition for the next 10 years?
Prof. Gupta
We are planning to provide both North and South America with the knowledge and the technology to set up their own systems to tackle arsenic soil pollution from ground water irrigation. Their water has high levels of arsenic which gets into the soil system.
We have programmes that work alongside universities to implement the technology on the ground, but we need to design a way to make it cheaper. We also need to disseminate knowledge more quickly and easily. There is a large section of society affected by arsenic, pollution, food poverty and other climate change-related problems.
Mr Barua
We want to make Bangladesh the First Solar Nation in the world. We have plenty of sunshine for agriculture and renewable energy. You can use solar energy for mitigating carbon emissions, for removing arsenic, there are so many ways to use it. There are also lot of people without electricity. Bangladesh aims to reach 100% Renewable Energy by 2050.
We like to plan from the grassroots level to involve civil society as we need a bottom-up approach to meet the energy targets. My mission is to create 'solar minds', involving future generations, policy makers and educational institutes. Solar power has become a well-understood technology in Bangladesh. Now we are trying to instigate a school programme, using solar power to filter water for young girls' wash rooms. This project would connect young students with solar energy and leave no carbon footprint.