How would you describe yourself?
I moved to the island of Negros in the Philippines in 1985 and co-founded AIDFI, the organisation I still work for, in 1990. My background is in marine engineering but after graduation my plan was to be on ships for no more than ten years. At the age of 23, I decided I wanted to work for a higher purpose, to increase opportunities for poor people. I was motivated by having witnessed extreme poverty and my own family background, which instilled a strong sense of social responsibility, including the importance of human rights. I prepared myself by volunteering in an Appropriate Technology group in the Netherlands. I now carry out development work all over the Philippines, helping people mostly in upland communities.
What is your mission?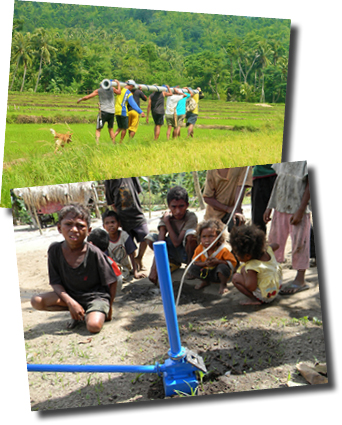 My mission is reflected in the mission of AIDFI: using appropriate technologies for basic needs like drinking water, irrigation, sanitation and energy. Appropriate technologies are in harmony with nature and people to improve their lives and empower them, triggering further development.
Tell us about an exciting project/initiative you are working on that you would like to share with the world?
AIDFI has developed a hybrid model of the hydraulic ram pump. This takes the best parts of expensive but efficient imported models, and DIY models which were developed over the last three decades. The AIDFI model is very efficient, very durable and uses locally-available spare parts such as door hinges. It is also relatively cheap. We make the pump locally in our own workshop. We also train technicians who all come from grassroots organisations.
The ram pumps are being installed in far-flung upland communities. They are used for both drinking and irrigation water. There are thousands of villages and farms which are situated above free-flowing sources. Sometimes villages are more than 200 meters above the source. The AIDFI programme helps them to tap these sources and bring the water closer to houses or farms using ram pumps. The pump uses a completely renewable energy source: the energy contained in falling water. It prevents tonnes of CO2 and air pollutants, and operates 24/7.
But it is not just the pump which is innovative. AIDFI has also developed a whole holistic programme around it. This includes training and the creation of institutions to manage the water. AIDFI has installed 470 systems in upland villages with some 260,000 beneficiaries.
We are now working to expand use of the ram pump for irrigation of those upland farms dependent on rain. Rainfall has become more and more unpredictable because of climate change. For the past five years, we have worked with the Department of Agriculture to carry out irrigation projects for High Value Crops.
We aim to share our project with the world. This is not just done by telling the story but also transferring the technology to other countries. The AIDFI ram pump is now also manufactured and installed by NGOs or enterprises in Afghanistan, Nepal, Colombia and Mexico.
What does it mean to you to be an environmental laureate?
AIDFI has won several environmental competitions as a social enterprise. We use this recognition to raise awareness of our work, in order to help more villages and farms access drinking or irrigation water in a sustainable way. Awards are recognition that you are having an impact and give you the will to persevere. Our work is often difficult because of the remote and dangerous areas we work in. It also reminds you that what you do is actually unique and pioneering.
What are the top three issues you would like to address?
Firstly, I would like to increase support for social enterprises related to the environment. Secondly, I think community-based environmental solutions and initiatives are incredibly important. Thirdly, reversing migration, where appropriate technologies and techniques can help that process. For example, making agriculture attractive to young people again, by using environmentally sustainable approaches.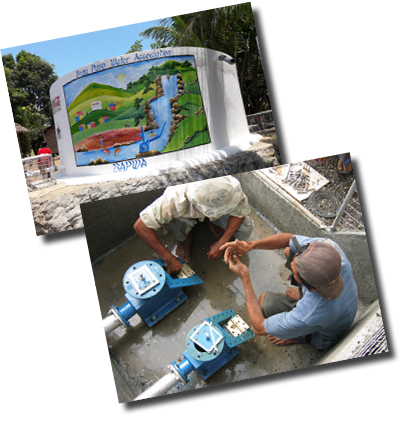 What are the benefits of being part of a bigger organisation and collaboration such as EEF?
It's the exchange of ideas and stories from each other's (mostly difficult and challenging) work. Attending the meeting gives you the opportunity to renew your energy and commitment by being with other like-minded people. The platform is the perfect tool to connect with other laureates and learn more about their work. This has huge potential, as it amplifies the unique knowledge of people and organisations with real-world experience.
What is your big hope/ambition for the next 10 years?
My personal ambition is to see hundreds of villages and farms supplied with water through our environmentally friendly ram pumps, and that our interventions trigger more sustainable development as a result of our empowering activities.
We have also started to build small scale machines for community-based plastic recycling. This is part of the Precious Plastic platform. This work takes place at the community level, including plastic waste collection, recycling and production of useful items which can sustain the community.
Furthermore, I would like to see more social enterprises, which I see as an effective economic strategy to counter poverty. I plan to be very active in this area.