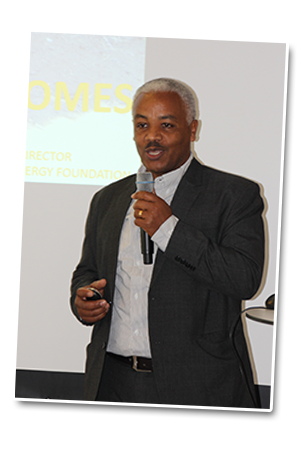 How would you describe yourself?
My name is Samson and I am the country director of the Solar Energy Foundation - an international NGO established in Germany in 2005. I started leading the Foundation in 2005 in Ethiopia. The main activities of the Foundation are to create awareness on solar technologies, create a conduced market for business in the country, and to train solar technicians and other interested groups on the technology. I am also now a CEO of STM, Solar Technologies Manufacturing, which is a sister company of the Foundation. We are now starting to assemble small solar systems in the country.
Most of my interest and spare time is spent working on the project, such as travelling to people and helping them to solve their problems. I'm passionate about doing this because the happiness I see when we give them the light is so rewarding. I will always want to spend my time with these people. In my spare time, I also cycle (in preparation for Cycle For Light programme), and I sometimes play football. I don't have much spare time normally because we live in a big country (close to 1 million people) so most of my time is engaged in these activities. I only really get spare time when I visit other countries.
What drew you to solar energy?
I engaged in this technology after I found out that this kind of technology was happening in the world. In Ethiopia, around 85% of the population are living in rural areas and only about 7% have access to electricity. They are still using kerosene gas and firewood for lighting purposes and other solutions. My background is in military engineering not electricity generation, but after I found out about people's problems in this sector it brought me in.
In 2002 I was in Paris and didn't want to stay so I moved to Germany. Here I saw this technology develop and I realized that I wasn't happy with what I did before. Seeing this technology made me want to bring this solution to my people. In Ethiopia, we always say we have 13 months of sunshine and so I began engaging with it in 2002. The happiness I saw after we gave them light gave me more power and I will continue to stick with it and work on the technology.
Tell us about an exciting project/initiative you are working on that you would like to share with the world?
When you see rural communities, you realise that their life really is a challenge. Mothers have to walk long distances to collect fresh water and they are also responsible for household chores. Women and girls are suffering and are unable to solve their problems when they have to travel long distances to collect water and firewood. They didn't get a chance to go to school because their time is spent dealing with these issues. For us, bringing this solution and technology to them can solve many, many issues. People are suffering with their health because they drink bad quality water and they use dangerous kerosene gases. They don't have the electricity to provide services and students work in bad quality light and smoke. Kerosene is bad quality light and produces a lot of smoke – they don't have the interest or time to study.
This very important technology could solve all these problems. For us the first project we started in 2006 was to bring the technology to a village in the north part of Ethiopia to 1,000 to 2,000 households. It's not only the light, we also install solar water pumping, light for schools, light for clinics, water disinfection systems and other pilot projects and you can see that this gives people better time to study, mothers can do additional activities, and houses are also green after using this solar technology. After we did this first project we changed our approach to our evolving fund programme, we distribute different types of solar systems and people can pay in installments from 5 – 2 year instalments. This is not only because they don't have money but it is also important to create trust between the technology, the service and so on. And so, we set up this and have been very successful with it in the past.
We distributed over 30,000 different solar systems for the people but after 4 years the government changed the policy for NGOs, and it was a bit challenging because we are not like other NGOs in that we do not give anything for free. Everything should be with contributions from the community or from the government, so people have an honest approach. With this approach, we were in a very good situation, we trained over 65 solar technicians and we employed buyers, but after the policy change we couldn't keep them and I reduced the foundation size. After that we established a small solar village by providing the technology and contribution such as cost sharing (e.g. they only pay 25% of the cost for the systems) but this was not working because what they pay is very little and the groups were selling the products on to others because they made a lot of money out of it.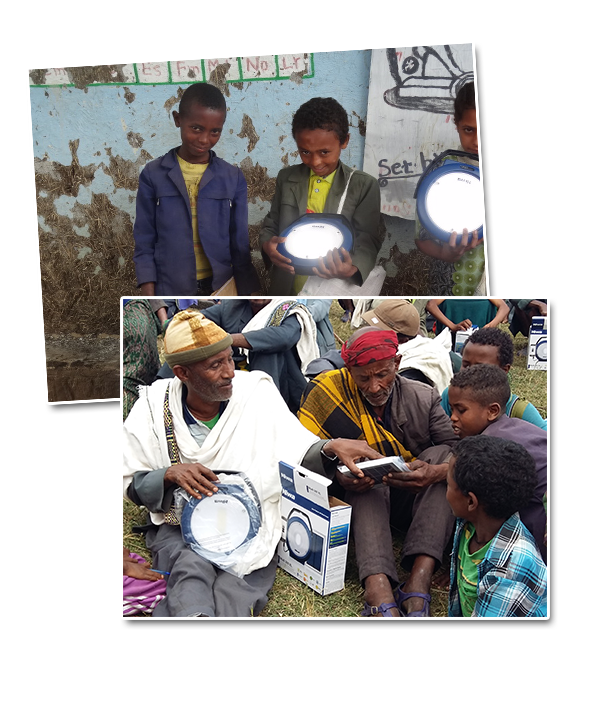 It was difficult to control the contribution so we changed this and currently we have a project called Lighting Student Homes. We came up with this idea because students, mainly rural students, couldn't get to school close to their houses so they had to walk long distances to and from school. When they get back home they're tired, there's no good quality light, and no time to do their homework so we decided to bring them a solution. We select students from schools (1,200 from 2 schools) and we give them a lantern to take home so they can do their homework and use it for the family. They can also be competitive with the students who are coming from urban areas. This project ran from 2016 and we distributed 1,200 lanterns, and we are expecting to do the same this year.
I'd also like to share a programme called Cycle For Light which is taking place in Ethiopia. The programme will be done in October so we can get some money from this programme. We have a Dutch group that will come to collect grants from people who want to participate in the Cycle For Light tour. It is roughly a 150km cycle ride and we will collect and engage people from local areas so they can give us money to participate and encourage them to participate.
What are your plans for the future? Are you going to be focusing on anything new?
The problem in my country now is that NGOs are not in a good space in the political sphere – they don't have much support from the Government so this is a challenge. We are the only NGO involved in solar and now we face big problems. As I mentioned, only 7% of our rural community have access to electricity so there is still a lot of work to be done. With other companies, we can tackle some of the issues, but we can't solve the whole problem. Finance is preventing us from expanding our projects. 1,200 lanterns are not really a solution but I have to do something - I'm just trying to keep this running.
What does it mean to you to be an environmental laureate?
After I got the award from Ashden, I worked in London. This gives me a lot more power to do more for our people and every year now we go to Germany to meet with other laureates and discuss issues, solutions and so on. I always have new power by being a laureate because of our network, meetings and discussions. The award also gives me additional power so that I can do more for my people.
Did you always strive to become a laureate? Or was it a surprise?
I won the Ashden Award in 2009 because it was a sustainable project. It was a big challenge for us because we were the first at the time who asked for contributions from the community and we also told the government that we would charge the people. It was a really big fight to get them to understand that we don't give anything for free and it took them a while to understand this approach. At the time of the Awards, only a few companies were active in the technologies, so after I won the award I understood that I have to do more. Then I went to London and met people who struggled with similar issues – I thought I had to do more. When I see others, I always want to be there.
Do you feel more pressure to work now you're a laureate or do you feel proud/want to do more?
I want to do more. As I mentioned what we did was worth it for the country – many people can talk about the technology in the country. The installations we did 10 years ago are still with us and the people still talk to us and ask for solutions and support. I feel really comfortable with this because solar projects in the past used to fail after a year because no one is following up. For me I always want to do more for the people. I want to engage with my project and follow up, and still the people who receive the service from us are really happy with their product. Most of them are still using it today – they haven't failed. The complaints from the government and people before have changed totally and they understand why we want them to share the costs. It's not to be profitable like a big business, but it is to create sustainability and I'm really happy with that. And again, if I come again to meet any more laureates we will discuss solutions on how I can do more and where I can find donors, professionals and programmes who can help me to do more projects in the future.
What do you think is the potential if we unite environmental laureates to collaborate together?
The best thing about meeting together is that we can raise our voice in a strong way for change and highlight different problems to our governments and policy makers to understand the situation and to change mentalities. When we are united, we can bring our voices together. If I shout by myself it might not have value, but if we do it together then we can share change and we can share best practice and not re-invent the wheel. Some developments in other countries could be very good solutions for us, and our projects could be beneficial for others so we can share this and copy and learn from each other instead of thinking again.
What are the top three issues you would like to address?
To solve environmental problems and issues, the government should develop clear and supportive policies.
Donors should support laureates to scale up their activities – not to stop there and finish. They can do more so should give laureates more finance and support to scale up their work.
Government should go for green, renewable technologies and projects as they are the future. For Ethiopia it is ok, the ground situation is good but there are plans to develop nuclear technologies in the country which is really not good for our country. We are using hydroelectric power but need to go for solar, wind and other renewables in their full capacity.
What are the benefits of being part of a bigger organization and collaboration such as EEF?
It's important they bring us together every year and we share our ideas and information, and the network is really great so EEF is doing a great job at making this global network. We discuss with people from all over the world and this helps us to find new customers who could work with us in our activities.
Have you met anyone through EEF (ICEL) who has become a project partner?
Yes – I received an award in 2016 from the Nuclear Free Future Foundation. This helps me a lot as they are looking for donors and grants to support our Lighting Student Home project. I met them through last year's EEF event – I knew them for 5 years but it was in the last two years that they nominated me for this award. Now we are looking for grants and donors to support the project so we always meet them for support. The Nuclear Free Future Foundation is helping us to find donors and grants. After being awarded in 2016, I have since had help with the current projects I am running.
Is there anyone else you want to meet?
I am still in need of groups who can help us with our projects. Ethiopia is a special place for projects so if you have groups who are coming to the next meeting then we are really happy to meet them and explain our project and if they are interested they can help us, but don't have anyone in mind just yet.
How would you encourage young people to get involved with the movement?
For me, young people are the main brains of this generation. They are also the main solution for the problems we are facing in the world. They are young and have more time in this world, so involving them now and giving them a chance to share their ideas and solutions will help them.
For the last three years I have met students at the Convention and we explained the different problems we are facing. If students don't travel to other countries then they don't see the real problems so I explain it to them and explain what we need. It was impressive to hear about what they think and what they are planning on doing to tackle these issues.
What would you say to encourage young people to ?
They have to understand the problems. We have to share the problems and they have to think about them. This is why ICEL is so important for young people as they get to understand the problems and solutions.
They're young, they can travel. If they don't have the technological solutions in their own country then they can go somewhere else that does. If they understand, the solutions will be there.
What is your big hope/ambition for the next 10 years?
Given that only 7% of rural people have access to electricity, in 10 years I hope that more people will have access to basic technology, especially through renewables. Globally, I would like to see more companies go for renewable technologies and for there to be no more talking about climate change issues. Meeting 2020 goals won't be easy but we can hope, so we have to really work on it and support each other to achieve at least some part of it.
What do you think the laureates should focus on at the next big meeting in March 2018?
In my opinion we should focus on strengthening our unity and renewable technologies and focus on showing these to people who don't understand climate change issues. We also need to focus on country specific situations and help countries shape their policies to create conducive conditions for those who want to work on environmental issues. We can't close our eyes and ears on climate change – we have to fight it.