What is your mission?
My mission is to protect, conserve and restore the Leuser Ecosystem – a precious eco-system which is also the place that I call home.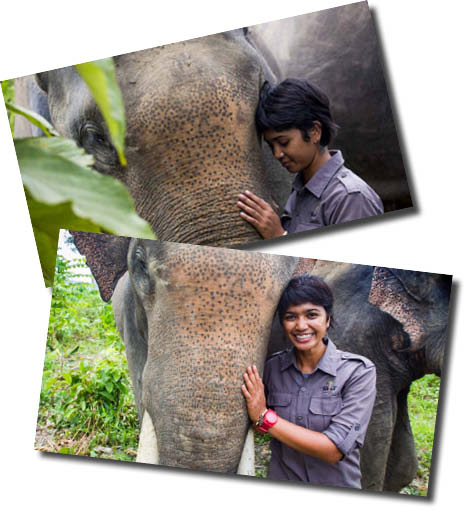 I've always been interested in wildlife and conservation since a very young age, but as I was growing up, Indonesia was struck by civil war so there was little focus on environmental issues. The real opportunity to work in this field only came after I'd graduated from my Masters.
Tell us about an exciting project you are working on that you would like to share with the world.
My focus is on building advocacy and addressing policy issues.
Conservation on the ground can't be done effectively without law enforcement. Therefore, a lot of my work has been advocating to strengthen the legal platform that protects the Leuser Ecosystem, this quite often involves working with local communities.
For example, a few years ago we launched a citizen lawsuit against Aceh's Spatial Plan. It failed to recognise the existence of the Leuser Ecosystem – despite its national level legal protection. The aim of the lawsuit was to ensure meaningful involvement from the local community as outcomes from decisions made would directly impact on their lives and livelihoods.
We also conduct a lot of training in paralegal and impact assessments. Over the years, we have learnt that on paper, local communities have the right to be involved in policy-making as well as in driving local development. However, in reality this is often not the case as locals don't see the importance of being engaged in policy-making until a point where the application of these policies begins to be detrimental to them – at which point it is often too late. We are working to build that awareness and involve communities within these areas early on.
Another great project I have been part of, is Leonardo DiCaprio's documentary, Before the Flood. My involvement in this project was serendipitous. The Leonardo DiCaprio Foundation had been supporting us for a long time prior to that, and I was working with Paul Hilton, a photojournalist who encouraged the filmmakers to look at the Leuser Ecosystem. There have been several documentaries on the Leuser that only serve to strengthen the credibility of our work.
What does it mean to you to be an environmental laureate?
Learning that there is a platform where laureates come together was a pleasant surprise. People don't work in this field to gain awards, but it is a recognition of all the work that we do. For me, it is an honour. It has been beneficial to be involved in these circles, particularly the opportunity to bounce ideas and collaborate with like-minded others.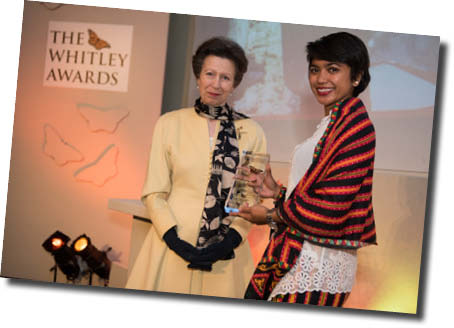 What are the top three issues you would like to address?
On a personal level, I am very interested in marine conservation. It is not the work that I do but I want to address the pollution in oceans. Marine pollution is very painful to see. In a general way, climate change is an issue that I want to see tackled.
One of the issues I am working on, is the reduction of forest fires. Deforestation is not only destroying wildlife habitats, it is also detrimental to local communities. Conservation is no longer sufficient to save forests; we also need to restore what we have lost.
I admire the working being done by several NGOs to tackle these issues. I admire Rainforest Action Network for their strategic thinking and guts stand up to big companies. I am also a fan of Conservation International and WWF for their public campaigns. The Elders are a really interesting NGO who seek to bring peace into our world, as are Women4Oceans, who work to involve more women in ocean health.
What are the benefits of being part of a bigger organization and collaboration such as the European Environment Foundation?
At ICEL Freiburg I connected with a lot of people who I am still in touch with, mainly for brainstorming and sharing ideas. The nature of my work is less on particular issues that could be applicable to several different landscapes. My work focuses on one landscape and every issue around it. That allows me to gain ideas but also to have interesting collaborations.
How would you encourage young people to get involved with the movement?
Someone once told me that the biggest environmental problem is not climate change - it's apathy.
The young generation are the ones who will inherit this planet and will pass it on. Our involvement today will determine their future. There has been a lot of initiatives driven by young people. Young people represent more than half of the population and are the ones who could decide what the future will be like.
I'm positive about the future. Climate change is taking place but it isn't inevitable – we have to keep pushing it forward.
What is your ambition for the next 10 years?
I'd like to see the Leuser Ecosystem to be protected permanently. Progress isn't easy – sometimes we move forward then sometimes we move back.
There is awareness of the importance of protecting the Leuser on the global level but we also need to work with the local communities.
What should we focus on at the next ICEL meeting?
I am always thinking along the lines of youth engagement, particularly the politicisation of environmental protection. Recently, I received training on how to communicate certain issues to influence people. One of the lessons learnt is that often we talk about the importance of protecting the environment as a duty that should be done by the privileged, rather than a right by all.