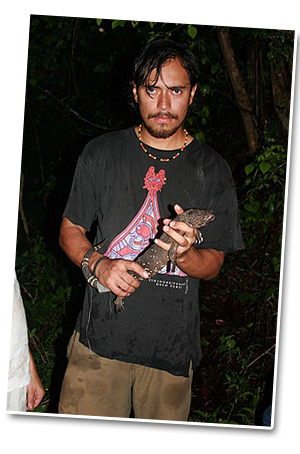 How would you describe yourself?
I am a natural biologist and conservationist. I'm a very active positive person who tries to do good in the world without receiving anything in return. I'm 42 years old but I'm still filled with a lot of energy to do many things in a good way to conserve nature.
What is your mission?
My mission is to protect and conserve the environment and biological diversity in my country (Guatemala). To make society aware of how important it is to protect and care for the environment. Education is the most solid tool to achieve this, but not everyone has the opportunity to get access to good education in my country so this is something we need to work on.
Tell us about an exciting project/initiative you are working on that you would like to share with the world?
We are currently creating a network of natural reserves. The strategy we are using identifies the sites where unique endemic species live in Guatemala. It also promotes the creation of reserves and protection systems, depending on the particularities of each area.
We want to show society the value of these areas at all levels, from the protection of the unique biological diversity of our country, to the environmental services that they provide. Everything that escapes us in this economic capitalist system in which we live is irreplaceable, and nature gives a lot to us if we protect it.
What does it mean to you to be an environmental laureate?
Being a laureate in this society is a big commitment. In my country, it is difficult to stand out with few resources, support and opportunities, but being a laureate means you play an important role in society and can educate communities about the great role that nature plays in your lives and the quality of it.
What do you think is the potential if we unite environmental laureates to collaborate together?
Sharing academic experiences gives us more encouragement to continue in our mission to protect the environment. Seeing the success of laureates in other parts of the world opens our mind to lots of other opportunities and encourages us to move forward. Our voices together are much stronger, and I think as a group we can influence more strongly, and tackle bigger issues, in our continents.
What are the top three issues you would like to address?
One of the most important things is the protection of water resources - it is important for everybody and all life on this planet. Sustainability in developing societies is important too, and the marker of responsibility for environmental damage. Sometimes when we go to a store and buy something, we don't think about the consequences of our doing with trash, resources and so forth. We use lots of energy when we consume products, such as changing clothes and buying a car, so it's important to think about this too.
What are the benefits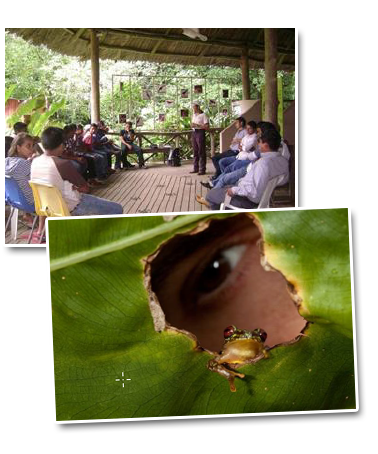 of being part of a bigger organization and collaboration such as EEF?
I really appreciate all the support and recognition I receive through EEF and there are many, many benefits. Sharing our experiences is one of the biggest benefits, as a lot of our problems and struggles are the same across our different cultures. Being part of this organization means our voice is stronger to promote the sustainability of societies and to respect and protect the environment at all levels. Being together also brings us many possibilities, and sharing our different points of view gives us more possibilities for tackling problems in our own areas. Being recognized in countries beyond your own is really important, and when someone else gives it to you it is much easier.
How would you encourage young people to get involved with the movement?
This is very, very important as they are the future of the world. Sharing the experience with young people is very motivating. They have concerns and doubts about the future and we must motivate them to give them ideas on a different world through sharing experiences.
Sharing achievements of our work towards protecting the environment and getting them involved is a great way. I think young people need, and want to feel, that they have a useful role as they then identify themselves as a key for change.
What is your big hope/ambition for the next 10 years?
I would like to help my country appreciate the wonderful nature in the world and to understand the importance of protecting the world's resources. I think education plays an important role and this is a great challenge.
Have you met anyone through EEF (ICEL) who has become a project partner?
I have met wonderful people who motivate me a lot with my work. Currently we have not identified the right partners but I believe that at the right time we will enter collaborative work. The potential is very great and the ideas and opportunities are very diverse.